Auspainters has long held a reputation as one of Melbourne's go-to exterior house painters.
Auspainters has long held a reputation as one of Melbourne's go-to exterior house painters. With a team of highly skilled and experienced professionals utilising the best paint in the business, you can be sure that the Auspainters experts will provide a quality service and a stunning finish. We are a Master Painters Associated-accredited entity and our team have all the necessary qualifications to ensure a beautiful paint job and the most courteous service. We happily provide detailed quotes for our valued clientele as well as walk-throughs upon completion to ensure they are truly happy with their service.
We are one of Melbourne's first class exterior painters
Melbourne exterior house painters with a passion for quality.
What has always mattered most to the Auspainters team is ensuring an elegant, vibrant finish for Melbourne homes. Your house's exterior is important to you, and so it's imperative to us to ensure you are completely happy with our service. We will happily consult with you to get an idea of what kind of colour and style you are going for before providing a comprehensive quote on our service. Once you are happy with the plan, we will go to work on ensuring your home's coat is one you are truly thrilled to come back to at the end of the day!
If you would like to find out more about our exterior house painters service, or would like to enlist our team to provide your house with a quality finish, simply get in contact with our friendly team.
"Call the Auspainters experts. We will assist you with all your inquiries or book your home in for a comprehensive quote on our service."
Call Us Now
Exterior render painting
Our expertise for exterior house painting cover all style of home that Melbourne has to offer. From weatherboard to render finish, federation to modern, there isn't a style of home we can't transform.
If your are looking to re-paint or restore the exterior surfaces on your home, we are more than qualified in exterior painting.
Weatherboard re-painting
We hold licenses to operate Elevated working platforms machinery to reach those hard to get places. We offer many services, some of these are:
Timber repairs and maintenance.
Eco friendly solutions.
Mold & mildew remediation.
Pressure wash cleaning.
Deck & timber staining and varnish.
Heritage and intrinsic restoration.
Some of our exterior projects
Strata maintenance programs
We currently undertake maintenance programs in several building. We have programs designed for a short term period of maintenance to a lengthy program from 5-10 years, maintenance program running yearly to undertake enhancements.
We are contracted to work with many strata/body corporate groups around Melbourne.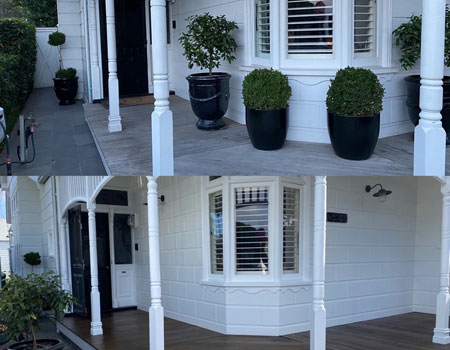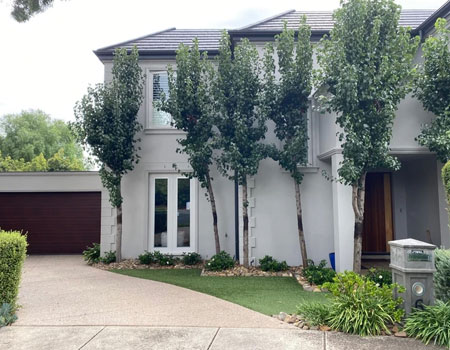 12 apartment strata complex – Fitzroy North.
The strata company appointed our team to undertake the restoration of the building.
Williamstown restored to modern colours
Extensive work undertaken to refresh this home to be one of finest
Kew restoration
Mould and mildew remediation undertaken and an entire refresh of the exterior paint.
Kew complex strata
Strata company appointed our group to refresh the buildings timber claddings.